Physician Practice Administrator, Opelousas General Health System, Louisiana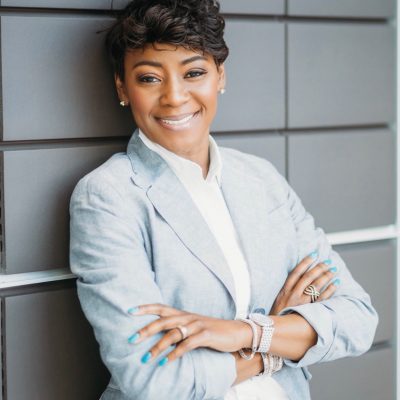 In 2016, I was working for a large healthcare organization as a Clinic Manager in a Neurology Center. I had finally found my career home, but I knew to advance, I would need more education. I committed to a two-year Master of Healthcare Administration program with Franciscan Missionaries of Our Lady University (FRANU) in Baton Rouge, Louisiana. Through the power of networking with the American College of Healthcare Executives (ACHE) and my Lord and Savior putting me in a room where I felt unqualified, I was introduced to Dr. Tiffany Love by an ACHE colleague in 2018. Our match would be kismet and our mentor/mentee relationship would take flight. The story of how I advanced so quickly under her advisement is truly extraordinary.
To start, we discussed my career aspirations along with the skills gaps I would need to fulfill in the next year. We also focused on networking and using social media to build my brand. I became a member of the LACHE Diversity & Inclusion Committee, graduated with honors from FRANU and eagerly awaited my next advancement. Shortly afterwards in 2019, I experienced my first advancement as a Board of Directors for the Louisiana Chapter of ACHE as a Region 3 Representative. My role would focus on recruiting, attracting early careerists, healthcare advancement, excellence and education.
Dr. Love was incredible at this point in my journey. She taught me how important it was to create opportunities for myself and not expect this from others. I continued to network and gain key skills to remain marketable to potential employers. I stayed steady in her advisement and in January of 2020, I  accepted a Physician Practice  Administrator position where I currently lead a team of 200 physicians, mid-level providers, nurses and support staff. I went from leading a few clinics to leading an entire medical group!
We didn't stop there….in February 2021, I was recognized by LACHE with the Early Careerist award. I was overwhelmed with joy, but also humbled, realizing that I couldn't have made it this far without Dr. Love. Shortly afterwards, the FRANU MHA Advisory Board invited me to serve as President, where my role focuses on curriculum, program offerings, engagements and recruiting.
My story is a true definition of human connection and mentorship. I've never experienced a relationship quite like the one I have with Dr. Love. There isn't a concern or challenge too big or small for our discussions. She's been incredible in helping to steer my career as a Black professional woman. I will forever be grateful and indebted to her for going above and beyond to see me reach my dreams. As she always says, "your success is my reward." I pray I can do her the same honor, in paying it forward to those looking for career guidance.