International Women in Nursing (IWIN)
"I am a servant leader. Never expect someone else to do
something you're not willing to do yourself."
"To treat others the way you want to be treated."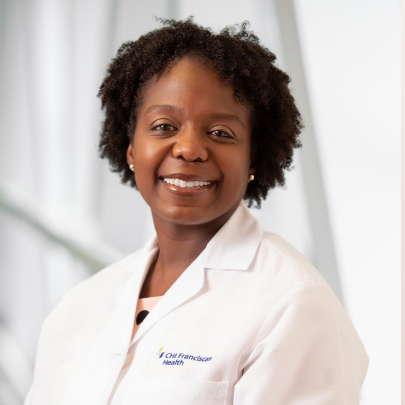 As one of the first participants in the International Women in Nursing (IWIN) program, Denise Mills, MN, RN, "finds joy in being able to serve others" and sees that as her ultimate purpose. In her current leadership position as Clinical Manager of Perianesthesia at Walters Surgery Center at St. Joseph Medical Center in Tacoma, Washington, which is member of the nationwide CommonSpirit Health system, Denise considers herself to be a servant leader, "taking care of the people, who take care of people."
Throughout her career in healthcare, Denise has remained steadfast in her commitment to her teams while serving as a charge nurse in the Walters Surgery Center and critical care nurse in the medical center's intensive care unit (ICU) caring for patients suffering from neurological disease and trauma.  Previously, she worked at the American Lake Veteran's Affairs Hospital in Lakewood, Washington educating patients on diabetes and hypertension and also at the Child Study and Treatment Center in  Lakewood, a mental health hospital for children.
Denise received her Master of Nursing degree from the University of Washington, Tacoma with a concentration in Communities, Population and Health/Leadership in Healthcare after obtaining her Registered Nurse (RN) license from South Puget Sound Community College in Olympia and Licensed Practical Nurse (LPN) license from Clover Park Technical College. Previously, she received her Bachelor of Arts degree in Interdisciplinary Arts and Sciences from the University of Washington Tacoma. 
Denise is a native of Tacoma and committed to giving back to her community. When not at work, she enjoys spending time with her family that includes five children, traveling, and enjoying good food and music.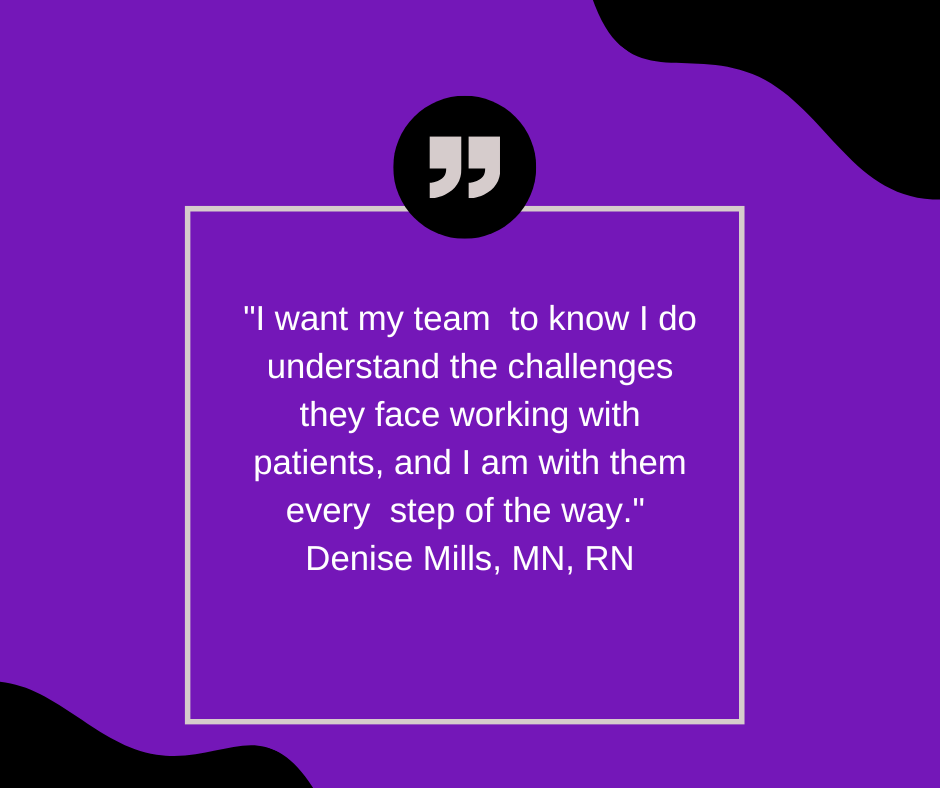 Fostering a Collaborative Health Careers Workforce Development Program Between CommonSpirit Health and the Tacoma School District
Since Tacoma School District is developing a Health Careers High School, Denise plans to create a Nursing Program Pathway within their Career and Technical Education department to help prepare high school students in the community, who want a career in nursing or the healthcare industry, to complete their degree in post-secondary institutions. 
The goal of her project is to develop a program that will graduate nurses who will start in the Health Careers Program hosted by the Tacoma School District and sponsored by CommonSpirit Health System. This program will help fill open positions in the hospital, create a more diverse workforce that reflects the community it serves, and foster community partnerships with the hospital, school district, technical and community colleges, and universities. 
Denise plans to start the first cohort in the 2023-2024 school year. She believes that not only will this program help high school students achieve their dream of working in healthcare, but it will also provide an opportunity for hospital staff and leadership to help with teaching, precepting and mentoring young nursing students.

"I want others to have the opportunity to wake up every day and love what they do. I LOVE being a nurse and using the skills and knowledge that I have learned, as well as the relationships I have gained, to care for the people in my community."
Tasha Bergeron Parms, MSPH, RN
"Be present, conscious and considerate."
"I am a resilient woman."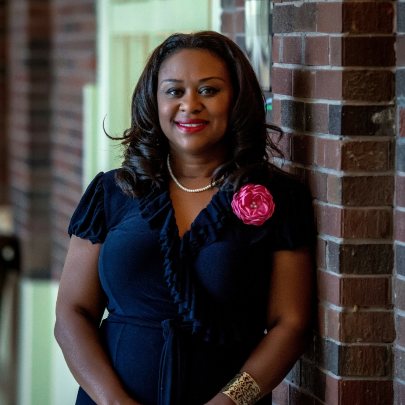 Tasha Bergeron Parms, MSPH, RN brings more than 20 years of experience to her current role as Director of Population Health at Blue Cross Blue Shield Louisiana (BCBSLA) where she is accountable for developing and executing programs to drive improved health outcomes and lives of BCBSLA members.
Under Tasha's leadership, her team utilizes population health analytics to identify populations and sub-populations with healthcare needs. They then translate their findings to design clinical programs, quality improvement projects, and value-based payment models that reduce health disparities, promote wellness and prevention, and improve overall population health outcomes.
During her tenure as both Health Policy Manager and Statewide Nurse Consultant at the Louisiana Department of Health and Hospitals in Baton Rouge, Tasha had a wide range of responsibilities that included advising the executive leadership team on policies related to Federal, state and local legislation, evaluating innovative technologies, and implementing chronic disease prevention programs to improve health outcomes. Previously, she worked as a Patient Services Manager and charge nurse at the Tulane University Hospital and Clinic on the DePaul Behavioral Health Campus in New Orleans.
Tasha earned her Master of Science in Public Health from Tulane University School of Public Health and Tropical Medicine in New Orleans and her Bachelor of Science in Nursing from Dillard University, also in New Orleans. She is a Certified Lean Six Sigma Green Belt, author of several publications and poster presenter and physician trainer at conferences. 
Outside of work, Tasha likes to travel with her family, have brunch with friends, and participate in volunteer service.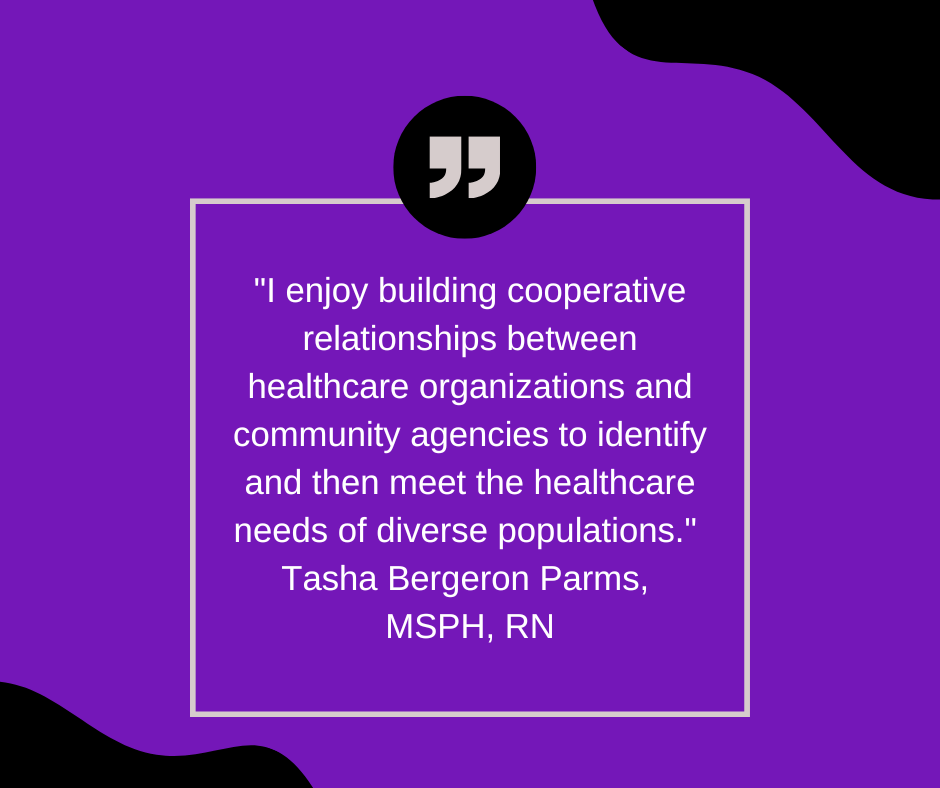 Addressing Key Indicators of Maternity Morbidity In Louisiana in Women of Color (WoC)
As Louisiana is consistently ranked 49th or 50th for maternal outcomes in women of color (WoC), Tasha will determine, through data analysis, where the burden is greatest in the state for maternal morbidity and then identify interventions to address the problem. The goal of her project is to have statewide adoption of evidence-based best practices to improve maternal morbidity in WoC. 
The project will be included in Blue Cross Blue Shield Louisiana's Plan for Health equity as they have publicly announced a bold, system-wide goal to reduce racial disparities in maternal health by 50% in five years. 
Upon completion of the project in late 2023, BCBSLA plans to establish value-based contracts with providers for maternal outcomes and expand benefit coverage for postpartum mothers up to one year that also includes behavioral health.
"Maternal morbidity knows no boundaries if you're educated, healthy and live in the right zip code as a WoC. I believe a lot of time and resources have been allocated to the clinical issues instead of the root causes of social determinants of health and I hope to change this through my project."
Delmy A. Vesho, RN, MSN, NE-BC
"Live to make a difference."
"I am passionate about being a nurse and helping others!"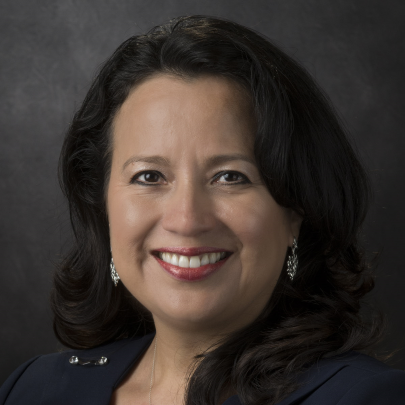 Throughout her career in nursing, Delmy Vesho, RN, MSN, NE-BC has never shied away from taking on the responsibilities needed for improvements in areas such as patient safety, clinical operations, patient experience, education, research, customer service, finance, human resources, quality outcome management and regulatory compliance. 

Delmy's collaborative leadership style is evident in her current role as Director of Nursing for six General Medical Oncology Units, Wound Ostomy Services and Nurse Resource Pool at The University of Texas MD Anderson Cancer Center in Houston, Texas. Additionally, Delmy has been instrumental in leading the nursing efforts to support COVID-19 vaccine initiatives for employees, patients and the community during the pandemic.

Previously, she served as the Director of Nursing at Ben Taub General Hospital in Houston, where she oversaw the stroke/neurosurgical, medical/psychiatric, medical/surgical and surgical telemetry units. She led several successful initiatives to improve patient experience, employee satisfaction, and CAUTI, BSI, pressure ulcer and patient fall rates. Delmy led the stroke inpatient unit through a Comprehensive Stroke Certification, achieving Honor Roll-Elite Plus designation. In addition, she collaborated with physicians to develop a nurse consult model that improved the management of med-surg patients with psychiatric comorbidities. Prior to that, she held progressive leadership positions within Inova Health System in Falls Church, Virginia. 

Delmy earned both her Master of Science in Nursing and Bachelor of Science in Nursing from George Mason University in Fairfax, Virginia. She is a member of the American Association of Critical Care Nurses and was a Gold Medal winner of the IAMS Quality Award while working at Inova.
Outside of work, Delmy likes to travel with her family and spend time with them playing tennis, boating, tubing and wakeboarding.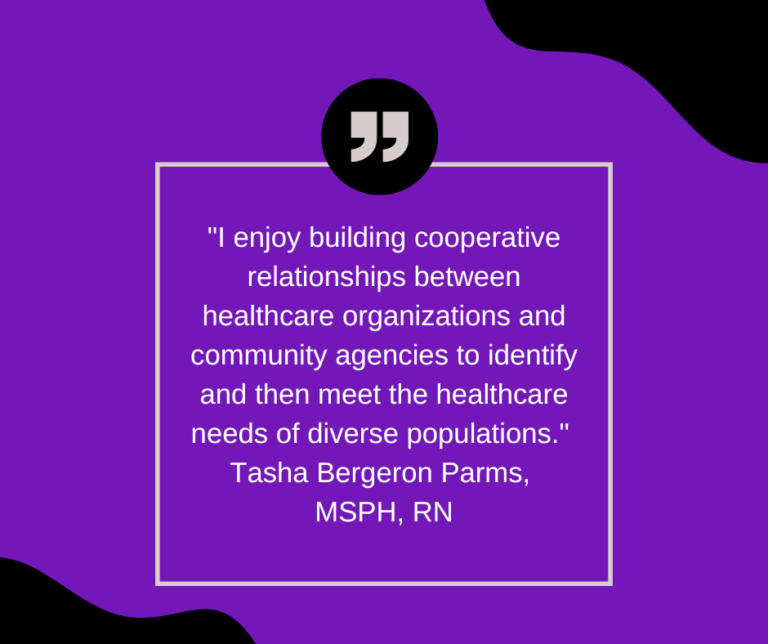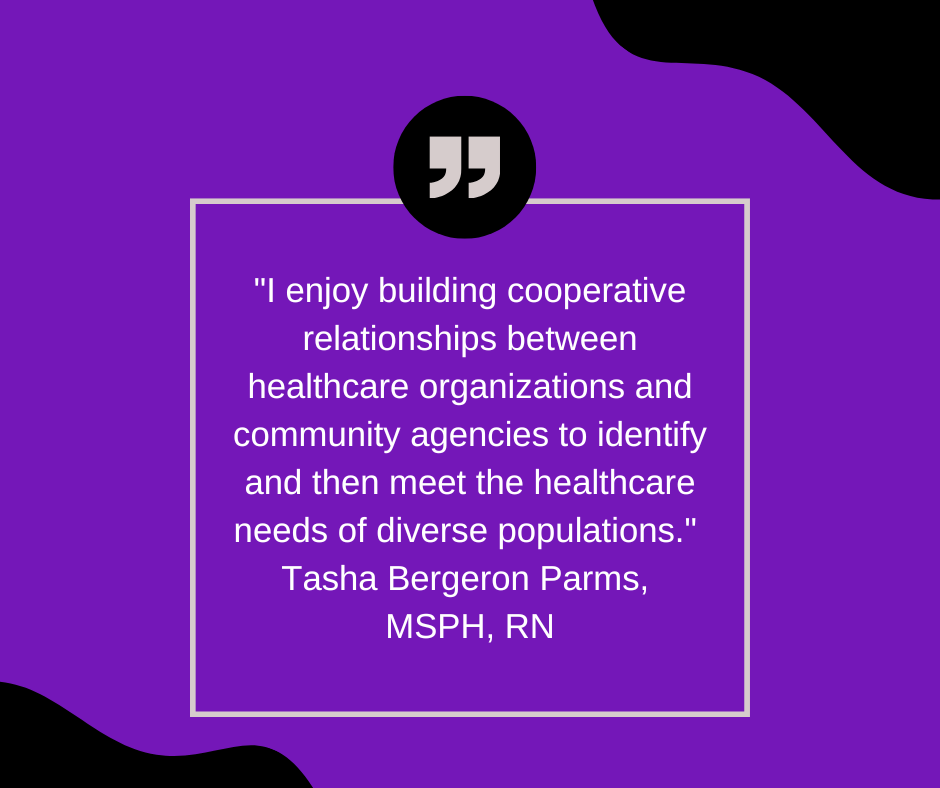 Implement an Advance Care Planning (ACP) Educational Curriculum for Inpatient and Outpatient RNs: The COMFORT
Model Pathways to Goals of Care
Knowing that training and knowledge are likely to increase positive attitudes and greater confidence for nurses to lead advance care planning (ACP) discussions, Delmy plans to develop curriculum, using the evidence-based COMFORT model, to train nurses on patient-centered, palliative care communication.
The goal of her project is to implement the training curriculum and then measure outcomes using the End-of-Life Care instrument (C-COPE), to determine the confidence level of participant's ACP communication, pre- and post-implementation.
Upon completion of the project in late 2023, nurses at MD Anderson Cancer Center (MDCC) will be able to engage in ACP discussion with their patients from all backgrounds. This creates a more positive experience, as patients are well informed and part of the decision-making process throughout their cancer journey.

"I believe it is a privilege to be in a leadership role where I can make a difference by improving quality care through evidence-based practice and leading other leaders to do the same at the bedside."